01/14/18 | International Solidarity Movement | al-Khalil Team
ISMers joined with other international and Israeli activists in the Bedouin village of Umm al-Khair on Saturday at the invitation of the Bedouin community. Saturday, the Jewish Sabbath, was a busy day constructing a dwelling for a Bedouin family while Israeli authorities have their day of rest.
Umm al-Khair came into existence in 1948 when the Bedouin villagers fled in the Nakba in 1948 and relocated to the South Hebron Hills. The Bedouin homes composing the village lie only metres away from a fence separating them from the illegal Zionist settlement of Carmel. Settlers from Carmel continually attack the village, throwing stones over the nearby fence at night to disrupt their sleep and attempt to pressure them to leave.
In 1981, Zionist Settlers started the illegal settlement of Carmel next to the village. It was provided with modern infrastructure: electricity, water and sewerage. But Umm al-Khair struggles under bureaucratic oppression to build even a simple structure and has to provide its own infrastructure including solar panels for their electricity. Not only can they not get building permits but they are also continually issued with stop work or demolition orders for every structure.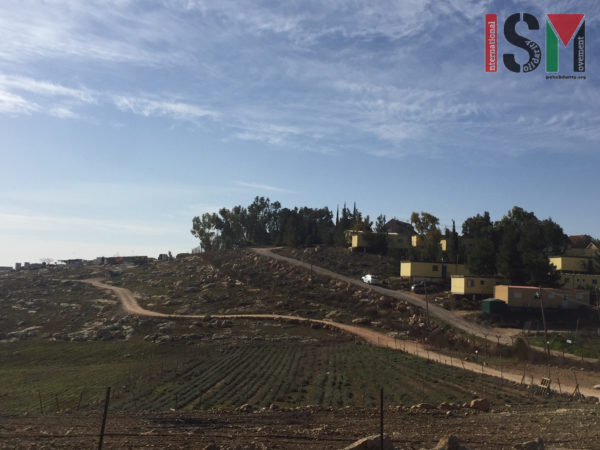 Umm al-Khair (at left) next to the illegal settlement of Carmel
This is why the large contingent of solidarity workers came on a Saturday to speed up the construction of a new family home. The simple structure had to be finished in one day, hopefully before any soldiers arrive and attempt to stop them and while the civil authorities have their day off. The family immediately moves into their new home and, when civil authority seeks a demolition order, there is greater chance of fighting the order in the Israeli court if a family will become homeless.
A military jeep with 4 armed soldiers arrived when construction had almost finished. A young villager explained the conversation, "They say that we have to stop, but we will continue and finish the home today."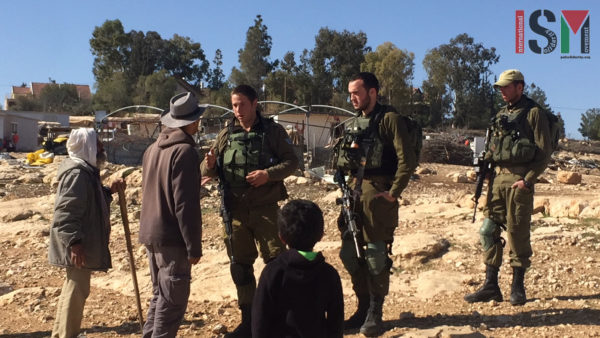 Occupation soldiers attempt to stop the work at Umm al-Khair
More stories like this at the official website for the International Solidarity Movement (ISM).
12/31/17 Israeli Testimony: "If 'roof knocking' was conducted and no one came out after a few minutes, then the assumption was that there was no one there."