Federico Busonero is an Italian photographer currently based in the Pacific Northwest. His book, 'The Land That Remains', is available to purchase from Hatje Cantz publishers and his website www.federicobusonero.com/the-land-that-remains
"The Palestine I visited remained elusive, transfixed in the stillness of its own time. I felt almost like an intruder as I approached the contradictory present topography and demanding past contained within: places of great weight and history, places of many recorded and unrecorded memories, places resonant with human suffering and dignity."
Travelling along Route 60, a long main road crossing the entire West Bank, Federico Busonero came across a middle-aged man. Sitting among a number of red bags with a large, stopped clock, he seemed to be waiting for someone – but he did not speak English and Busonero did not speak Arabic.
"I asked him if I could make a photograph, pointing the camera to him," explains Busonero. "He did not refuse and looked straight at me."
During the 15 minutes Busonero spent sitting with the stranger, the time on the clock didn't change. "The man also did not move," says the photographer, "his hands crossed on his legs, pensive eyes looking at me. Everything was halted.
"For me the photograph is a metaphor of the condition of all Palestinians: their time is frozen, they cannot move, they wait for a solution which only the external world can give them: the end of the occupation, the return to normality, the freedom to live and to cultivate their own land, the land that remains."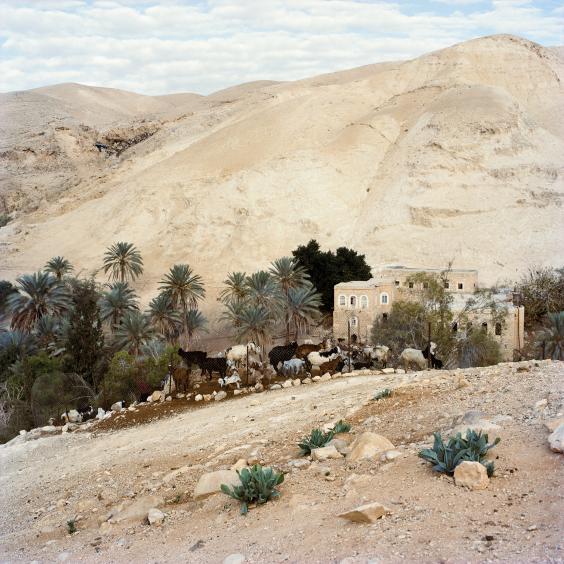 Commissioned by UNESCO, Busonero made three extensive photographic journeys throughout the West Bank of the occupied Palestinian territory in 2008 and 2009. During his assignment, he preferred to travel alone to avoid the inevitable limitations of the escort offered for safety. Using a pass issued by the United Nations, he was still able to photograph places not usually open for access due to the Israeli occupation, often ending up in isolated villages and unmarked desert areas.
The image of the roadside stranger is one in a series published in his resultant book, The Land That Remains.
For more info and additional photos, continue reading at The Independent.